Pioneer in No-Code Development Singapore
Before:
Proteus-DT's social media presence was once a dormant landscape. Their channels across Facebook, Instagram, and LinkedIn had minimal engagement and followers, making their digital footprint almost nonexistent. The interactions on their posts were scarce, and the growth of their online community was stagnant. Their brand story was lost in the vast digital realm, unable to connect with their potential audience.
Our Intervention:
We stepped in with a comprehensive social media management plan tailored specifically for Proteus-DT. Through a detailed understanding of their brand and audience, we developed a unique content strategy designed to captivate and engage their target demographic.
After:
The results of our strategic intervention were transformative. Proteus-DT saw significant growth in their follower base across all platforms. Facebook, Instagram, and LinkedIn were no longer dormant spaces but thriving communities buzzing with activity. The engagement rates soared, with more likes, shares, comments, and overall interactions on their posts. Proteus-DT's brand became a recognized name within their industry on social media, with their content reaching more people than ever before. Their digital footprint expanded significantly, providing a strong foundation for future growth and success.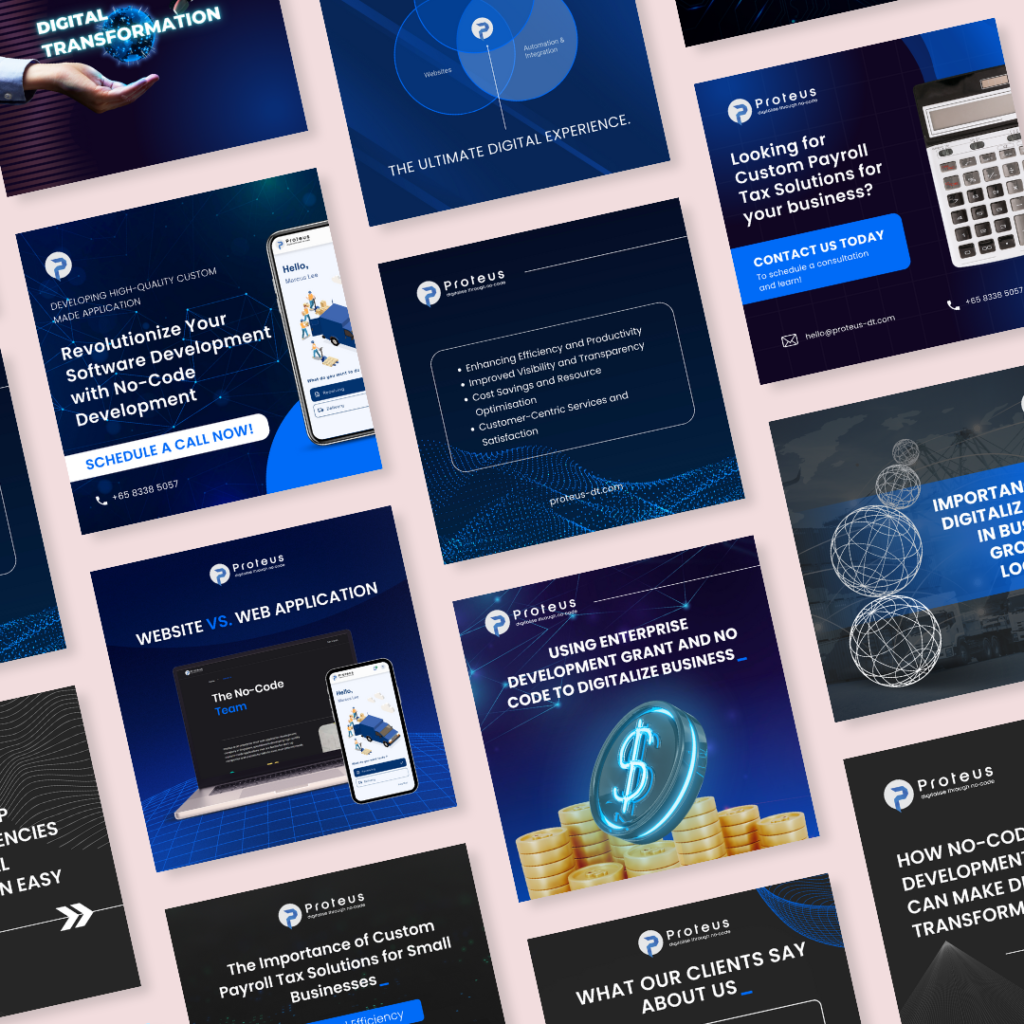 Before we teamed up with Proteus-DT, their lead generation strategy, managed by a different agency, had a steep cost per lead of around $100. Given our expertise in cost-effective lead generation, we saw an opportunity to enhance the efficiency of their campaigns. By implementing a meticulously crafted lead magnet strategy, we succeeded in broadening Proteus-DT's client base, remarkably driving down the cost per lead to a mere $15. We didn't stop there; we further fine-tuned their approach by focusing their marketing efforts on bottom-of-the-funnel (BOFU) leads. 
By doing so, we effectively reduced the cost to approximately $60 per lead. This comprehensive optimization not only led to substantial cost savings for Proteus-DT but also resulted in higher quality leads, thus bolstering their potential for successful customer conversions and boosting their overall business growth.

Reduction in Cost Per Lead
Search Engine Optimisation
In a remarkably short period of 1.5 months, our team at Adverdize took the helm of Proteus-DT's SEO management and initiated transformative changes that significantly elevated their digital presence. We began this journey by devising a meticulous keyword strategy, anchored in a comprehensive understanding of Proteus-DT's industry landscape and customer behaviour.
This strategy was instrumental in getting Proteus-DT's website indexed for an additional 100+ new keywords, drastically expanding their reach and visibility on leading search engines. Every new keyword we targeted and ranked for was a careful selection based on trending search patterns, competitor analysis, and Proteus-DT's unique value proposition. The result of this precise keyword targeting was a significant surge in the number of potential customers finding Proteus-DT online.
This newfound visibility translated into a phenomenal 300%+ increase in page views on Proteus-DT's website. This remarkable growth not only demonstrated a deeper penetration into their target market but also created more opportunities for lead generation and conversion. Each page view represented a potential customer gained, a lead generated, and a step closer to a conversion.
Further testament to the efficacy of our SEO strategy was a substantial doubling in the number of unique users visiting the Proteus-DT website. This metric signifies a broadening of Proteus-DT's audience base, reflecting the success of our strategies in driving more traffic to their site. This influx of new users didn't just raise Proteus-DT's profile in the digital realm, but it also led to an equivalent increase in the number of active sessions on their website. These heightened session counts stand as proof of the enhanced user engagement and improved quality of the website content and user experience we were able to deliver.
While these initial results have been highly encouraging, we at Adverdize view them as merely the beginning of Proteus-DT's SEO success story. With the persistent and data-driven approach to SEO we are committed to, we fully expect these positive results to further accelerate. In the coming months, we are confident that Proteus-DT will witness a sustained increase in their digital visibility, website traffic, user engagement, and ultimately, a higher rate of customer conversion and business growth.

Press Release Writing & Distribution
We're thrilled to have spearheaded a press release campaign for Proteus-DT that saw their story and brand message echoed across Asia. Our expert PR team managed to secure publication in 145 different news channels, including high-profile platforms such as Asiaone, Yahoo Singapore, VulcanPost, and Money FM 89.3, among others. This broad-based media exposure amplified Proteus-DT's voice in the industry, building their brand reputation and extending their reach.
The estimated PR value of this campaign was an impressive US$ 146K, a figure that quantifies the worth of the media coverage if the same space was purchased in advertising. This underlines the incredible return on investment Proteus-DT has reaped from the campaign.
Furthermore, the press release strategy resulted in an estimated reach of 4.621 million people. This broad reach translated to a massive audience being exposed to Proteus-DT's brand, products, and services, providing countless opportunities for lead generation and business growth. This highly successful press release campaign not only created immediate buzz around Proteus-DT but also laid a robust foundation for their long-term brand visibility and recognition.
Press Release Featured In (& many more)